Established since 2003, PCWELL has been building and supplying computers and various components to coporate companies and everyday families. Our goal is to deliver high quality computers and services at a great price.
As the computer market getting saturated with all the bells and whistles, many pre-build, one size fits all solution simply do not provide adequate performance for every individuals. Apart from the selections of pre-build models, we also take time to communicate with the customer and find out exactly what they use it for and custom build a solution tailor their needs.
At PCWELL our pricing is always competitive, more importantly the quality of our products and our professional service will provide you with peace of mind and no more frustration when comes to using your computer.
Our engineers are experienced and holds internationally recognised qualifications, when you visit us you will be greeted with the warmest smile and professional advice when ever you required any assistance in computer related issues.
PCWELL is located in Unit 6, #41 Smales Road. East Tamaki. Auckland.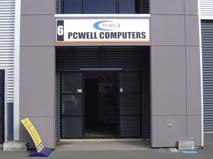 Our Engineers hold the following qualifications: